Józef Czapski: painting drawing diaries
02.07.2019-18.10.2020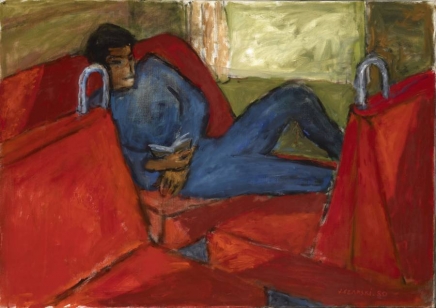 Save a tree. Do not print this unless it is really necessary
Józef Czapski: painting, drawing, diaries from the collection of the National Museum in Krakow, as well as the collections of Krystyna Zachwatowicz-Wajda and Andrzej Wajda, is the most complete presentation of Józef Czapski's paintings at the Józef Czapski's Pavilion.
It consists of the following oil paintings (the first two are from the collection of the National Museum in Warsaw, the others from the National Museum in Krakow): Self-portrait in a Mirror (circa 1937), The Forest Opera in Sopot (1937), Patrycja Newey in "Tosca" (1953), Altar Boys (1955), Red Café (1956), Still Life (1956), Sea Landscape (1961), Reception (1963), Mirror on a Wooden Door (1964), Old Woman (1965), Flowers in a Vase (1966), Armchair and a Frosted Glass (1975), On a Scaffolding (circa 1978), A Young Man against a Red Background (1980), Electric billiards (1981), Three Green Apples (1982), A White Vase (1985), two Landscapes (one of them monochromatic) (1987); and six watercolours from Józef Czapski's undated notebook, given to Krystynia and Andrzej Wajda on 28 June 1984 during one of the visits at Maisons-Laffitte. The watercolours and inscription ("To my very dear Wajdas with all my gratitude and friendship Józef Czapski, 28 VI 84.") were cut out from the notebook and framed in 1985 by Andrzej Wajda. 

Most of Czapski's paintings that are currently found at the National Museum in Krakow come from the collection of Barbara and Richard Aeschlimann. Richard Aeschlimann, a Swiss painter, drawer and writer was Czapski's friend and art dealer. In 1976, together with his wife Barbara, he established the Plexus Gallery in Chexbres (Switzerland), wherein the late 1970s, he started organising exhibitions of Czapski's paintings. With the opening of the Józef Czapski's Pavilion in 2016, the Aeschlimanns presented the National Museum in Krakow with their friend's 12 paintings. The paintings Sea Landscape and Flowers in a Vase were given to the museum by Maria Adela Żeleńska, maiden name Bohomolec (Mysia) and Władysław Żeleński, living in Paris, who were friends with Czapski. Maria translated into French Czapski's book The Inhumane Land (the book was published by Plon in 1949 titled Terre inhumane, with a foreword by Daniel Halévy); Władysław was a nephew of Tadeusz Boy-Żeleński, a lawyer and a journalist. 

 Classic Still Life (1956) has a humorous dedication on the reverse, handwritten by its author: "Starry Czapsko-Przewłocki Łubieński Czapski and Czapski. To my Godson the best carer for a broad family from the loving uncle Józio 1956".  The addressee of this dedication was Ludwik Łubieński (nicknamed Lulek or Lulu by his family), the son of Józef's eldest sister Leopoldyna, who – together with her first husband Leon Łubieński – ran a farm in Kazimierza Wielka near Krakow – a village that had been owned by the Łubieńskis for generations, as testified to by Maria Czapska in her book Europa w rodzinie (English edition – A Family of Central Europe Through the Storm). Ludwik Łubieński, who is a frequent presence on the pages of Czapski's diaries, had an eventful but difficult life (he was Józef Beck's personal secretary, then the head of the Polish mission in Gibraltar and a witness to the catastrophe in which general Władysław Sikorski died, he cooperated with general Władysław Anders and worked as a production manager for Radio Free Europe, to name a few of his occupations). After the war, he lived in Munich and later in London. Still, Life was given to the National Museum in Krakow in 1996 by his daughter Anna Łubieńska.  

Two Landscapes painted in 1987 are among Czapski's last oil paintings. They have been given to the Pavilion by Krystyna Zachwatowicz-Wajda and Andrzej Wajda – authors of the idea of Józef Czapski biographical museum. We show them at the exhibition without frames – just the way Czapski presented them to the Wajda's.

 We also show seventeen diaries from 1945–1976, with floral motifs (anemones, narcissuses, tulips, irises, wildflowers, tobacco flowers), made with different techniques: watercolour, quill, pencil, felt-tip pen, crayon. Tobacco flowers from diary no 93 are a note to oil painting Flowers in a Vase (both no 93 diaries opened at this page and the painting are shown at our exhibition).
Czapski carefully observed the relations between words, drawings, watercolours and oils in his works – the incessant waving of optics and craft, and here is what he wrote about it "Writing destroyed by drawing and watercolour. I am looking at two completely bad coloured drawings. The drawing with a soft pencil, merely drawn, was good. I complicated everything with watercolour, although the coloured vision was strong and so clear. Now, when I look at my two last canvases – Metros – I am struck that they are worse than drawings, even those with watercolour. And it is neither necessary nor definite. The process, the weight of oil, is, must be different from watercolour. Copying a drawing is not a solution. And today I see how I should try to push my Metros into their own, oil way. Can I do it? Maybe I should then go back to the red woman by sea, having looked at the watercolour and taking its intensity, without copying. I can imagine all of it, but in practice, I seem to be afraid to affronter this canvas. So many failures on this road" (entry dated: "Friday, 4 VI 1965", citation after Józef Czapski, Wyrwane strony, "Zeszyty Literackie" 2010, p. 42). 

To offer an insight into the artist's revelations and the way he worked on them, we chose a citation from diary no 149 dated 6 March 1976. The original, as well as the read fragment,  can be seen at our exhibition. Czapski is analysing narcissuses that he saw in the morning light during breakfast.

In October 2019 we will present a new diary exposition. 


Concept, programme and coordination of the exhibition: Agnieszka Kosińska
Exposition of Józef Czapski's diaries: Janusz S. Nowak
Reading of a diary fragment: Maria and Janusz S. Nowak 
Curators: Agnieszka Kosińska and Światosław Lenartowicz
Design: Agnieszka Kosińska and Krystyna Zachwatowicz-Wajda

Prepared by: Agnieszka Kosińska
MNK The Czapski
ul. Piłsudskiego 12, 31-109 Kraków
Monday: closed
tue: 10.00-18.00
wednesday-sunday: 10.00-16.00